The History of Coffee in 5 Cups
The stories behind some of the world's most famous styles of coffees.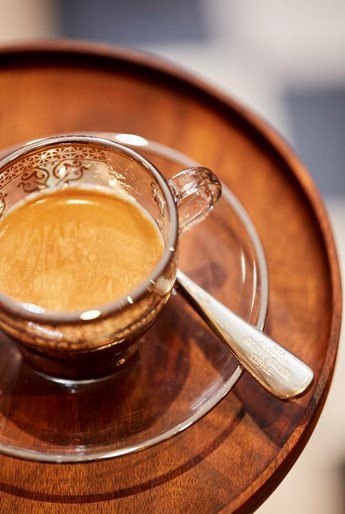 Whether you prefer a strong shot of coffee in a ceramic espresso cup or a traditional Vietnamese coffee sweetened with condensed milk served in an icy glass, discover the stories behind your favourite brew.

Black Coffee
What is it: A drink made from ground coffee brewed with water.
The history: Most sources agree that the first coffee plant was discovered in Ethiopia and the beverage — called "kahwa" — originated in Arabia. Arabic traders brought the plant to their homeland, now known as Yemen, where it was cultivated. There, the beans were boiled in water and the coffee was sipped from small cups. The drink was popular among the Muslim community for its ability to help its worshippers concentrate.
Try it.
Espresso
What is it: A full-flavoured and concentrated coffee, typically served in shots.
The history: Originating from Italy in the early 1900s, espresso coffee is made by forcing a small amount of nearly boiling water under pressure through finely ground coffee beans. It became popular during the Industrial Revolution in Europe, particularly with working-class men, as they frequently drank the coffee for a much-needed caffeine kick.
Try it.
Americano
What is it: Espresso coffee diluted with hot water.
The history: During World War II, American soldiers in Europe were not used to the intense flavours of espresso coffee as it was too dark and rich for their taste. To make the beverage taste like the filter coffee Americans were more accustomed to, espresso was diluted with hot water to create the Americano.
Try it.
Flat white
What is it: An espresso-based drink that contains steamed milk.
The history: There is debate on whether the flat white originated in Australia or New Zealand in the 1980s. It is now sought after worldwide for its velvety texture – made by steaming the milk to create a microfoam. Regardless of its origins, the flat white is a product of the third wave coffee movement.
Try it.
Vietnamese coffee
What is it: Coffee with sweet condensed milk.
The history: The French first introduced coffee to Vietnam in the 1800s. Since then, the nation has become one of the world's largest coffee producing regions. Filtered through the phin, a traditional metal filter, this style of coffee yields a bold, robust, and nutty flavour. To balance out the coffee's strong flavours, the Vietnamese love pairing it with sweetened condensed milk.
Try it.